El primer drama protagonizado por Jejung "Postman to Heaven" esta decidido
para ser lanzado en Japón en mayo! En primer lugar lanzado en el 2009 en Corea, "el Cartero del Cielo" es uno de los trabajos del proyecto de unión de Corea-Japón "Tele Cinema 7″ con 7 lanzamientos seguidos. En cuanto a Japón, se decidió que se lanzaría en mayo del 2010.
"Postman to Heaven" de Jejung y el resto de los 6 trabajos de Tele Cinema han sido fijados para tener su estreno a escala nacional el 29 de mayo (Sab) por TOHO Cinemas en Roppongi Hills!

Distribución: Toho Video Division
¡La información oficial sobre los trabajos de Telecinema será actualizada oportunamente en el sitio Web oficial! ¡Por favor disfruten!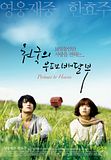 Créditos: official site + chara. Traducción al inglés de sharingyoochun.net. Traducción al español DdO.